LMFAO - Party Rock Anthem ft. Lauren Bennett, GoonRock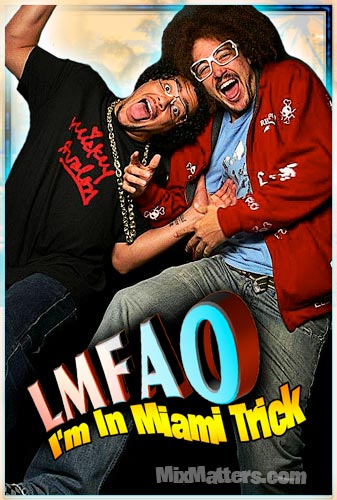 LMFAO is an American electro hop duo that formed in 2006 in Los Angeles, California, consisting of rappers, dancers, and DJs Redfoo (Stefan Kendal Gordy, born September 3, 1975) and SkyBlu (Skyler Husten Gordy, born August 23, 1986). They are the son and grandson, respectively, of Motown record label founder Berry Gordy, making them uncle and nephew. Their music incorporates a theme of partying and drinking, and the group commonly refers to their music style as "party rock". The name LMFAO is an initialism for "Laughing My Fucking Ass Off" (although it is often sanitised to "Loving My Friends And Others") and is pronounced letter by letter.
Redfoo (Stefan Kendal Gordy) and SkyBlu (Skyler Gordy) both grew up in the affluent Los Angeles neighborhood Pacific Palisades, where they formed the group LMFAO in 2006.Redfoo and SkyBlu are uncle and nephew respectively. Redfoo is son of Berry Gordy, the founder of the Motown label and Nancy Leiviska, a music video director and writer. SkyBlu is Berry Gordy and Thelma Coleman's grandson through their son Berry Gordy IV and his wife Valerie Robeson. In an interview with Shave Magazine the duo stated that their original name was 'Sexy Dudes' and they subsequently changed it at the advice of their grandmother.They signed to record company Interscope in November 2008.
LMFAO released Party Rock EP on the iTunes music store on July 1, 2008, and released their full album on July 7, 2009. The album charted at number 33 on the Billboard 200 and number two on the U.S Dance Chart. Los Angeles Times described Party Rock as "14 virtually interchangeable odes to night life."
Their first single was "I'm in Miami Bitch", which was released in December 2008, and peaked at No.51 on the Billboard Hot 100 and No.37 in Canada.
In early 2009 a little known DJ/producer 'DJ Inphinity' created a bootleg using the Silvio Ecomo remix of DJ Chuckie's 2008 hit "Let the Bass Kick" and the acapella of LMFAO, creating "Bass Kick in Miami". The bootleg was spread across the internet and became a massive success at the Miami Winter Music Conference 2009. Weeks later the song became the theme song for the E! television show Kourtney and Khloé Take Miami and "Get Crazy" was used for Jersey Shore in 2009.
In mid 2010, they were featured in David Guetta's song "Gettin' Over You", which was an international hit, peaking top ten in eleven countries and three of them at number one, including in the United Kingdom. It also peaked 31 on the U.S. Hot 100 and 12 in Canada. The duo then recorded their second album, Sorry for Party Rocking in the remainder of 2010 and released it on June 17, 2011, in the U.S. The first single taken from the album, "Party Rock Anthem", features British singer Lauren Bennett and producer GoonRock. The song is so far the most successful of their career, peaking at number-one in the United States, Canada, the United Kingdom, and over ten other countries, as well as the top ten in many others. The second single from Sorry for Party Rocking was released on May 27, 2011, and is titled, "Champagne Showers," and it features British singer-songwriter Natalia Kills.
Also in 2011, LMFAO embarked on their first Asian tour. They performed in Singapore; Manila, Philippines; Taipei, Taiwan, and Kuala Lumpur, Malaysia, among other cities. Also, on June 30, 2011, LMFAO performed a set on the Isle of MTV 2011 Malta Special on the Fosos (Granaries) in Floriana, Malta, in front of a crowd of 50,000, together with Far East Movement and Snoop Dogg.
Furthermore, the group LMFAO is focused on growing their Party Rock clothing line and is also one of the opening acts for American singer Ke$ha's "Get Sleazy Tour", along with Spank Rock and Natalia Kills, for the third and fifth legs of the tour in 2011. On August 13, 2011, they opened for Ke$ha at the St-Jean-sur-Richelieu hot air balloon festival in Quebec, Canada, attracting close to 100,000 fans.
LMFAO cites a vast range of different influences, such as rappers like Tupac Shakur, hip hop groups like The Black Eyed Peas, R&B artists like James Brown and Michael Jackson, and rock bands such as The Beatles and Led Zeppelin. Both are devoted fans of Michael Jackson and they use many of his dance steps in their dance routines. Also, LMFAO cites taking a huge inspiration from Adam Goldstein, better known as DJ AM, who first got them introduced to electronic music. Notably, Redfoo is a former brother-in-law of Jermaine Jackson, Michael Jackson's older brother, and is also an uncle of Jermaine Jackson, Jr In 2007, LMFAO attended the Winter Music Conference in Miami, Florida, which the duo says was an experience that inspired their musical and creative style.
On August 29, 2011, LMFAO filmed a video for their new single "Sexy and I Know it" in Venice Beach, California.Porn star Ron Jeremy is featured in the video which has a "body parts" theme. Actor Simon Rex, Mixed martial Arts and K-1 fighting super star Alistair Overeem, and Wilmer Valderama also make cameo appearances.