Charlotte Church Ave Maria

Charlotte Maria Church (born Charlotte Maria Reed; 21 February 1986) is a Welsh singer-songwriter, actress and television presenter. She rose to fame in childhood as a classical singer before branching into pop music in 2005. By 2007, she had sold more than 10 million records worldwide including over 5 million in the U.S.n 2010 she was reported to be worth as much as £11m(though one 2003 report quoted her worth at £25m). She hosted a Channel 4 chat show The Charlotte Church Show.
Church released her first album in 5 years, titled Back To Scratch, on 17 October 2010.
Charlotte Church was born Charlotte Maria Reed in Llandaff, a district of Cardiff, Wales.She was brought up as a Roman Catholic by her mother, Maria, who was separated from Church's biological father, Stephen Reed. Church was adopted by her mother's second husband, James Church in 1998. Her break came at 11 when she sang "Pie Jesu" over the telephone on the television show "This Morning" in 1997, followed by her performance on ITV's Big, Big Talent Show in 1997. This led to concerts at Cardiff Arms Park, the Royal Albert Hall and opening for Shirley Bassey in Antwerp. She also received a vocal scholarship to Howell's School Llandaff in Cardiff where she started in 1998 after leaving The Cathedral School, Llandaff. She balanced performing and school with help from tutors for when she was on the road and said in many interviews that she was "just like every other girl her age".
Church was then introduced to the Cardiff impresario Jonathan Shalit, who became her manager and negotiated a contract with Sony BMG. Her first album, Voice of an Angel, was a collection of arias, sacred songs, and traditional pieces that sold millions worldwide and made her the youngest artist with a No. 1 album on the British classical crossover charts.
Church appeared on PBS specials. Her self-titled second album also included operatic, religious and traditional tracks. One, the soaring and inspirational Just Wave Hello, was the centre piece of a millennium-themed ad campaign for the Ford Motor Company. The song's full-length video, featuring Church, won acclaim at the Detroit Auto Show and introduced her to new fans. The track reached No. 31 in Britain.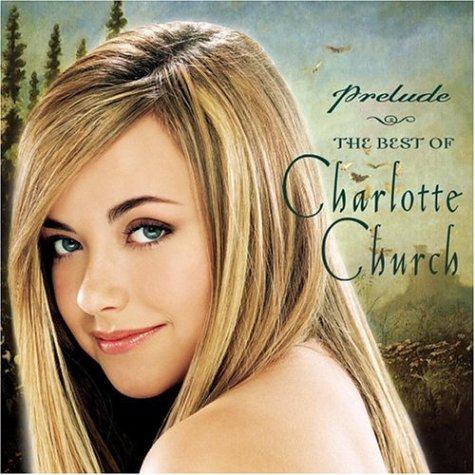 In 2000, she released Dream a Dream, an album of Christmas carols. It included Church's first foray into a more pop-influenced style in the title track Dream a Dream, borrowing the melody from Fauré's Pavane and featuring young American country singer Billy Gilman. Church also sang with Gilman in "Sleigh Ride" on his CD Classic Christmas.
In 2001, Church added more pop, swing, and Broadway with her album Enchantment. That year, Church made her first film appearance in the 2001 Ron Howard film A Beautiful Mind. Celine Dion was beginning a concert engagement in Las Vegas and was not available to perform the film's end title song, "All Love Can Be", so composer James Horner enlisted Church and the song was rewritten for her vocal range. Church also handled other vocal passages throughout the score.
In 2002, at 16, she released a 'best of' album called Prelude, and took part in the Royal Christmas tour alongside Julie Andrews and Christopher Plummer, concluding her classical music career.
In 2005, Church issued her first pop album Tissues and Issues. Four singles were moderately successful in the UK with "Crazy Chick" reaching no. 2, "Call My Name" number 10, "Even God Can't Change the Past" number 17, and "Moodswings (to Come at Me like That)" number 14. Although these were released in Australia as well, they failed to reach the same level of success there, and in March 2006 it was announced that there would be no US releases of Church's pop work until she had achieved a number 1 hit in the UK. Tissues and Issues accounted for no more than 2% of her total sales. Church's pop album was released in the U.S. through Amazon.com MP3 shop, and iTunes in 2009.
In April 2006, she performed three concerts in Glasgow, London, and Cardiff, in venues holding between 2,000 and 3,000 people; the dates at London and Cardiff were sold out. Supported by Irish band the New Druids, Church performed a mix of tracks from her debut pop album and a number of pop covers including Prince's "Kiss" and Gloria Estefan's "Rhythm is Gonna Get You". Though Church hinted at the possibility of a full tour in the future, none took place.