Reese Witherspoon winning Best Actress
Laura Jeanne Reese Witherspoon (born March 22, 1976), better known as Reese Witherspoon, is an American actress and film producer. Witherspoon landed her first feature role as the female lead in the film The Man in the Moon in 1991; later that year she made her television acting debut, in the cable movie Wildflower. In 1996, Witherspoon appeared in Freeway and followed that appearance with roles in three major 1998 films: Overnight Delivery, Pleasantville and Twilight. The following year, Witherspoon appeared in the critically acclaimed Election, which earned her a Golden Globe nomination.
2001 marked her career's turning point with the breakout role as "Elle Woods" in the box office hit Legally Blonde, and in 2002 she starred in Sweet Home Alabama, which became her biggest commercial film success to date. 2003 saw her return as lead actress and executive producer of Legally Blonde 2: Red, White & Blonde. In 2005, Witherspoon received worldwide attention and praise for her portrayal of June Carter Cash in Walk the Line, which earned her an Academy Award, Golden Globe, BAFTA and Screen Actors Guild Award for Best Actress in a Leading Role.
Witherspoon married actor and Cruel Intentions co-star Ryan Phillippe in 1999; they have two children, Ava and Deacon. The couple separated at the end of 2006 and divorced in October 2007. Witherspoon married her second husband, talent agent Jim Toth, in 2011. Witherspoon owns a production company, Type A Films, and she is actively involved in children's and women's advocacy organizations. She serves on the board of the Children's Defense Fund (CDF) and was named Global Ambassador of Avon Products in 2007, serving as honorary chair of the charitable Avon Foundation. On December 1, 2010, Witherspoon received a star on the Hollywood Walk of Fame.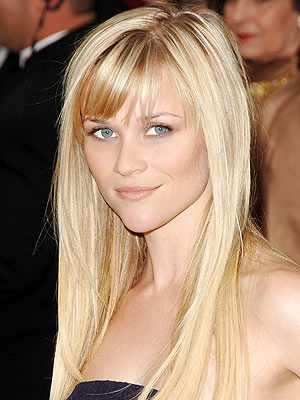 Witherspoon was born at the former Southern Baptist Hospital (now the Ochsner Baptist Medical Center) in New Orleans, Louisiana, where her parents were living while her father was a student at Tulane University medical school. Her father, John Witherspoon, is a Georgia-born otolaryngologist who previously served as a lieutenant colonel in the U.S. Army reserves. Her mother, Betty (née Reese), is from Harriman, Tennessee, has a Ph.D. in pediatric nursing and works as a professor of nursing at Vanderbilt University. Witherspoon has ancestry from the Declaration of Independence, as her Scottish-born ancestor John Witherspoon, signed United States Declaration of Independence. Because Witherspoon's father worked for the U.S. military in Wiesbaden, West Germany, she lived there for four years as a child. After returning to the U.S., she spent her childhood in Nashville, Tennessee. Although she was born to Catholic parents,she was raised as an Episcopalian.
Witherspoon was selected as a fashion model for a florist's television advertisements at age seven, which motivated her to take acting lessons. At age eleven she took first place in the Ten-State Talent Fair. Witherspoon received good grades in school; she loved reading and considered herself "a big dork who read loads of books."On mentioning her love for books, she said, "I get crazy in a bookstore. It makes my heart beat hard because I want to buy everything." Witherspoon attended middle school at Harding Academy and graduated from the all-girls' Harpeth Hall School in Nashville, Tennessee, during which time she was a cheerleader.She attended Stanford University as an English literature major.After completing one year of studies, she left Stanford to pursue an acting career.
Witherspoon is proud of the "definitive Southern upbringing" she received, which, as she said, gave her "a sense of family and tradition" and taught her about "being conscientious about people's feelings, being polite, being responsible and never taking for granted what you have in your life." Witherspoon is described as a "multi-achiever" and was given the nickname "Little Type A" by her parents. On discussing her early achievements, she told Interview magazine, "I just don't see any of it as that remarkable. Maybe that's the attitude I choose to have to keep me sane and keep my feet on the ground. I grew up in an environment where women accomplished a lot. And if they weren't able to, it was because they were limited by society."