Jennifer Lynn Connelly (born December 12, 1970) is an American film actress, who enjoyed a career as a child model after a friend of her parents suggested that she should audition. She subsequently appeared in magazine, newspaper and television advertising before making her motion picture debut in the 1984 crime film Once Upon a Time in America. As a teenager, Connelly continued her career as a model, at the same time starring in films such as Labyrinth and Career Opportunities. She gained critical acclaim for her work in the 1998 science fiction film Dark City and for her portrayal of Marion Silver in Darren Aronofsky's 2000 drama Requiem for a Dream.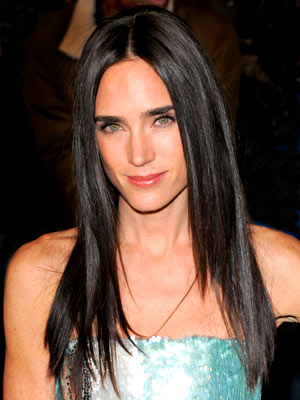 In 2002, Connelly won an Academy Award for Best Supporting Actress along with a Golden Globe Award for Best Supporting Actress and the BAFTA for Best Actress in a Supporting Role for her role as Alicia Nash in Ron Howard's biopic A Beautiful Mind. Other film credits include the Marvel superhero film Hulk, the thriller Dark Water, the drama Blood Diamond, the remake of The Day the Earth Stood Still and the romantic comedy He's Just Not That Into You Magazines including Time, Vanity Fair and Esquire, as well as the Los Angeles Times newspaper have included her on their lists of the world's most beautiful women.
Connelly was born in Round Top, New York in the Catskill Mountains to Ilene, an antiques dealer, and Gerard Connelly, a clothing manufacturer.Her father was a Roman Catholic with Irish and Norwegian ancestors, while her mother was a yeshiva-educated Jew of Polish and Russian stock.She was first raised in Brooklyn Heights, near the Brooklyn Bridge, where she attended Saint Ann's, a private school focused on the arts. The family moved to Woodstock, New York in 1976. Four years later the family returned to Brooklyn Heights where Connelly resumed her education at the same school.
When Connelly was ten years old, an advertising executive friend of her father suggested she audition as a model. As a result she joined the Ford Modeling Agency and began modelling in print advertisements, before moving on to television commercials.She appeared on the cover of the issues of Seventeen magazine of April 1986, August 1 April 1987, and December 1988. In December 1986 she recorded two pop songs for the Japanese market: "Monologue of Love" and "Message of Love", Connelly sang in phonetic Japanese as she did not speak the language.
After Connelly's frequent appearances as a model, her mother started to take her to acting auditions where she was selected for a supporting role as Deborah Gelly in Sergio Leone's 1984 gangster epic, Once Upon a Time in America. In a scene of the film, Connelly had to perform a ballet routine. During the audition for the role, and without any knowledge of the dance, she made random movements imitating it that finally convinced the director to include her in the cast.Connelly described the movie as "an incredibly idyllic introduction to movie-making". Her first leading role was as Jennifer Corvino in Italian giallo-director Dario Argento's 1985 film Phenomena,followed by the lead in the coming-of-age movie Seven Minutes in Heaven the same year.
Balancing work and school, she studied English for two years at Yale University in 1988 and 1989 before transferring to Stanford University in 1990 to study drama. There, she trained with Roy London, Howard Fine and Harold Guskin Encouraged by her parents to continue with her film career, she left college and returned to the movies the same year.
During the mid-1990s, Connelly demonstrated her ability to handle more mature roles with a 1995 appearance in the role of a collegiate lesbian in John Singleton's Higher Learning.She subsequently began to appear in small budget but well-regarded films, such as 1997's drama Inventing the Abbotts set in the late 1950s in which she played the part of Eleanor, one of the three daughters of the town millionaire Lloyd Abbott Her next appearance was in the critically acclaimed 1998 science fiction film Dark City, where her supporting role was backed by renown actors as Rufus Sewell, William Hurt, Ian Richardson and Kiefer Sutherland